In September of 2018 we gathered at Warm Beach Camp and Conference Center for our Fall Retreat which was sold out with 40 attendees.

Our retreat was focused on Charlotte Mason's teaching on Mother Culture.
We were supposed to have rain, but the weather cooperated for us and we were able to enjoy God's creation in the beautiful setting of Warm Beach, staying dry for the most part.
The retreat was so rich with the wisdom from many different contributors. Friday night began with Jackie Siochi leading us in an immersion narration on a Parent's Review article about Mother Culture. We then discussed Mother Culture in our present lives.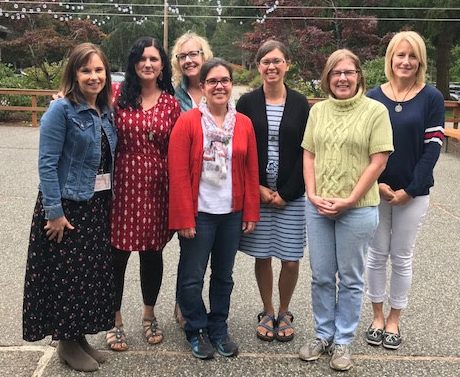 Cate Florey then led us in our first handicraft of weaving, which was so fun and a great success! We all had so much fun beginning to learn this new skill, and were able to add natural objects found throughout the weekend to our weaving. It was wonderful to see so many women continue to work on this project throughout the weekend, and many were excited to try to teach this handicraft to their children.
After breakfast and morning prayer on Saturday morning, there was a presentation by Ed Dominguez from the Seward Park Audubon Center about backyard birding in the fall and winter. We were then able to get outside on the trails and observe some of what we learned about and enjoy the natural setting.
Betsy Farquhar from Redeemed Reader  then gave a wonderful presentation on the practice of reading, describing different tools, techniques and practices to help make reading a more consistent and joyful part of Mother Culture in our lives.
After lunch that afternoon, Jason Dorsey from Sunnyshore Studio shared his family's story of five generations of artists in a real, genuine way that was touching and inspiring. After his presentation, he spent time giving drawing tutorials with people who were interested.
Later on, Kathy Wickward led us in the Shakespeare Immersion that she presented at this past summer's Charlotte Mason Institute Conference: Shakespeare's Famous Last Words and Lines o' Love. We had so much fun acting out Shakespeare's famous lines in pairs. So much laughter!
After dinner, Cate led us in another handicraft of embossing medal charms for our own personalized necklaces. This was so fun! Everyone enjoyed it so much, worked with new tools and was able to take home a beautiful piece of metal work of their own creation.
We then went down to the large fire pit for a campfire, s'mores and singing. Throughout the weekend, Hannah Vander Wilt led us in a hymn and folk song, and she then helped lead beautiful music during the camp fire. The sky even cleared up for us, and we were able to see the beautiful night sky away from the city lights.
On Sunday morning, we had Mass and a prayer service followed by breakfast. We went for a quick morning walk, followed by a copywork immersion led by Betsy Farquhar.
Jackie Siochi then gave a tremendously inspiring, down-to-earth and practical presentation about avoiding and dealing with homeschool burnout. Many moms were touched as she shared her story and her wisdom about burnout.
Rebecca Burdullis gave the last presentation, sharing about schole & Sabbath, and how they are essential parts of leading peaceful, joyful lives and homeschools.
The weekend was a great success, and we all are excited to see the Charlotte Mason community growing in the Pacific Northwest! We look forward to gathering again in September of 2019.
Schedule
Friday
Saturday
Sunday
4:00
Registration & Small Group Tables with Resource Sharing
8:00 AM
Breakfast
7:30 AM
Mass with Fr. Jeff
5:30
Dinner
8:50 AM
Morning Prayer
8:00:00 AM
Prayer Service with Margo Dahl
6:30
Welcome & Introduction
9:00 AM
Fall and Winter Backyard Birding with Ed Dominguez
8:30:00 AM
Breakfast & Room Checkout
6:45
Charlotte Mason and Mother Culture with Jackie Siochi
9:30 AM
Nature Walk with Ed Dominguez
9:30
Morning Walk
7:30
Music with Hannah Vander Wilt
11:00
The Practice of Reading with Betsy Farquhar
9:50
Music with Hannah Vander Wilt
7:45
Handicrafts with Cate Florey
11:50 AM
Music with Hannah Vander Wilt
10:00
Sabbath Copywork with Betsy Farquhar
12:00 PM
Lunch
10:20
Avoiding Burnout with Jackie Siochi
1:00
Art in Family with Jason Dorsey & Nature Journals
11:00 AM
Schole & Sabbath with Rebecca Burdullis
3:00
Break Time for Hiking, Journaling, Keeping, Napping & Canoes
11:45 AM
Wrap-Up
4:30
Shakespeare's Famous Last Words and Lines o' Love with Kathy Wickward
12:00 PM
Lunch
5:30 PM
Dinner
6:30 PM
Handicrafts with Cate Florey