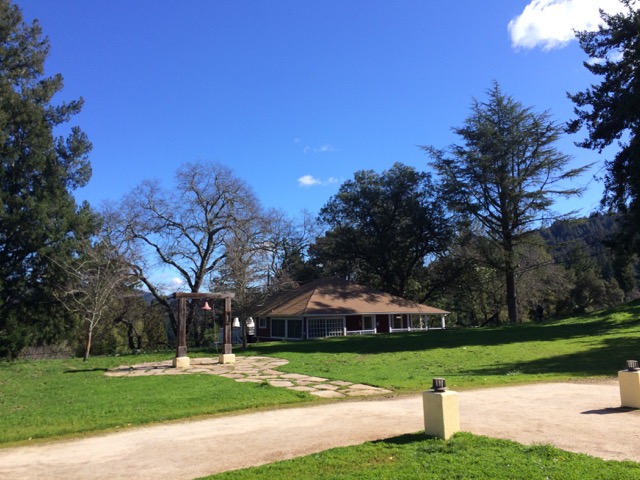 In February 2017, 48 women gathered at the lovely Presentation Center for talks, workshops, panels, discussions, nature journaling, and lots of good conversation whenever we could find an opportunity.  We arrived at the tail end of a storm, one a series of storms that dropped historic amounts of rain on the Santa Cruz Mountains, but departed in glorious sunshine.
It was the first Charlotte Mason conference in Northern California, and we had attendees from various parts of California, as well as Washington, Arizona, Utah, and Colorado.  We also had 7 babies with us, and at least that many pregnant women as well!  When Celeste and I started planning the conference, we had no idea what kind of response we would get.  We were gratified and relieved to find such strong interest, and extremely pleased to get to spend the weekend with this thoughtful and vibrant group of women.
For a more personal take on the conference, Celeste and Amber have shared some photos and thoughts about the conference on their blogs.  If you have a blog post you'd like to include about the conference, please comment below and I'll link to it.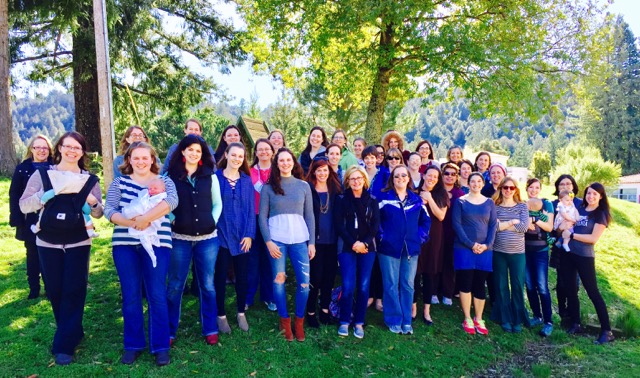 Our Speakers:
Brandy Vencel
Brandy Vencel is a Christian wife and homeschool mom of four children ages 7 to 14. She invited Charlotte Mason into her heart in 2005 and never looked back. Brandy spends most of her spare time writing for her blog, Afterthoughts, designing her phonics curriculum, Teaching Reading with Bob Books, and hosting the popular Scholé Sisters podcast. Brandy also serves on the Auxiliary Board for AmblesideOnline, a a free homeschool curriculum that uses Charlotte Mason's classically-based principles to prepare children for a life of rich relationships with everything around them.
John Muir Laws
Naturalist, educator and artist John (Jack) Muir Laws is in love with the natural world and has lived his life sharing this passion with others. He is trained as a wildlife biologist and is a Research Associate of the California Academy of Sciences. Jack has taught nature education teacher since 1984 in California, Wyoming, and Alaska. He teaches the tools to help people develop as naturalists and stewards including, ways to improve your observation, memory and curiosity, conservation biology, natural history, scientific illustration, and field sketching all while having fun and falling more deeply in love with the world. Laws has written and illustrated books about art and natural history including The Laws Guide to Nature Drawing and Journaling (2016), The Laws Guide to Drawing Birds (2012), Sierra Birds: a Hiker's Guide (2004), The Laws Guide to the Sierra Nevada (2007), and The Laws Pocket Guide Set to the San Francisco Bay Area (2009). He is the primary author and editor of the curriculum: Opening the world through Nature Journaling. This free teaching guide is kid tested and teacher approved and integrates science, language arts, and visual arts through keeping a nature journal. He is the founder and host of the Bay Area Nature Journal Club, monthly free nature sketching workshops, field trips and events, connecting people with nature through art.
Jenny Elias
Jenny lives in a suburb of Southern California with her husband Richard and their six children. She has been homeschooling since her oldest was seven years old. The introduction to Charlotte Mason (CM) was welcomed warmly, since much of its philosophy was already naturally approached in their home. Jenny quickly developed an interest and excitement in sharing CM with others in her community. She started a CM discussion group, Learning Charlotte Mason in Conejo and Simi Valleys, with other homeschooling mothers. This group has blossomed into a weekly CM co-op community known as the "Large Room," which she currently moderates. Through dedication to her Christian faith and the principles of a CM education she finds grace in her daily life.
Conference Organizers and Speakers:
Amber Vanderpol
Amber is a mother to five children, ages 15, 11, 8, 5 and 3. She has homeschooled from the beginning, but began following Charlotte Mason's Philosophy of Education about five years ago. Amber particularly enjoys her morning walk, reading great books, backpacking, and being outdoors. Amber and her family live on 10 acres in the foothills of the Sierra Nevada in a home she and her husband largely built by themselves. She blogs about her homeschool and Mother Culture at Flare of Light.
Celeste Cruz
Celeste lives in the South Bay with her husband of thirteen years and their chaotic crew of eight children, all ten and under. Once upon a time she was training to be an English professor; now she can usually be found with a baby strapped to her back and preschoolers underfoot as she learns alongside her elementary kids. (Some days are more successful than others.) When she has her hands free, she enjoys distance running, reading, and nature journaling. She discovered Charlotte Mason before her children were born and has been an enthusiastic devotee ever since. She moderates at the AmblesideOnline Forums and shares the joys of a Catholic Charlotte Mason home education at Joyous Lessons.

Our Schedule:
THURSDAY
4:00 -6:00 PM :: Arrival and Used Book Sale
6:00 – 7:00 PM :: Dinner
7:15 – 7:30 PM :: Welcome with Amber Vanderpol and Celeste Cruz
7:30 – 8:45 PM :: Plenary I – Start Here: Charlotte Mason in One Hour with Brandy Vencel
FRIDAY
8:00 – 9:00 AM :: Breakfast and Announcements
9:15 – 10:15 AM :: Workshop Session I – Six Steps to Plan a Circle Time with Brandy Vencel -or- Exploring Music Study with Amber Vanderpol
10:30 AM – 12 PM :: Plenary II – How To Lead Nature Journaling Activities with John Muir Laws
12:00 – 12:45 PM :: Lunch
1:00 – 3:15 PM :: Nature Journaling Workshop with John Muir Laws + Afternoon Snack
3:30 – 4:30 PM :: Workshop Session II – Foreign Language Through the Forms with Celeste Cruz -or-  Science with Living Books and Notebooks with Jenny Elias
4:45 – 5:45 PM :: Round Table Discussions – CM in the Upper Years -or– CM with Littles
6-7 PM :: Dinner
7:15 – 8:30 PM :: Mother's Education Course Chats:  Health – Considering Natural Healing for Families -or- Moral Science – It All Begins with Education
SATURDAY
8:00 – 9:00 AM :: Breakfast
9:30 – 10:30 AM :: Panel – Learning in Community
10:45 – 11:45 AM :: Plenary III – Reimagining Atmosphere, Discipline, and Life with Brandy Vencel
12:00 – 1:00 PM :: Lunch and Farewell
Overall, our schedule went quite well.  Our time with John Muir Laws went long, which meant we started our second workshop session at 4 PM and our round table discussion at about 5:10 PM.  Judging by comments and survey responses, I think we all could have used a break on Friday afternoon.  Next year we'll make it a priority to include some sort of unscheduled time during that day.  Even though our rooms, dining area, and cottages were all quite close together, it was nice to still have a 15 minute break in between the various sessions.  It gave the speakers a little breathing room to run a little over, or time for people to duck back to the cottages or step outside for a little fresh air before the next session.
Our Talks:
Plenaries
Start Here: Charlotte Mason in One Hour
Brandy Vencel
When Charlotte Mason distilled her immense educational philosophy into a concise form ("20 Principles"), she was forced to highlight only the essentials. In this session, we will discover the internal logic of the 20 Principles and how they fit together as a comprehensive whole, how they serve to balance one another, and how so many of our mistakes originate from focusing on some of the principles while neglecting others.
How to Lead Nature Journaling Activities
John Muir Laws
In this workshop we explore the pedagogy and logistics of leading nature journaling activities and bringing students outdoors. You will learn how to lead journaling activities, my biggest mistakes and what doesn't work, techniques to give authentic feedback on student work that inspire and motivate, and a review of relevant education and cognitive psychology research.
Re-imagining Atmosphere, Discipline, and Life
Brandy Vencel
When we truly understand what Charlotte Mason meant (and didn't mean) by atmosphere, discipline, and life, we can begin to use these as tools that will not only serve to make our good days even better, but help us troubleshoot our worst days and redeem them.
Workshops
Science with Living Books and Science Notebooks
Jenny Elias
Charlotte Mason's approach to science combines living books and notebooks to incite in students an active interest in the natural world and its laws. Leaning on wise words from The Parents' Review, Mason's own volumes, and examples using these methods in the home environment, we will discuss what a living science programme might look like with students of all ages, from pre-schoolers through high schoolers.
Six Steps to Plan a Circle Time
Brandy Vencel
After discussing what a Circle Time (or Morning Time) is, we explore how it can help us implement Charlotte Mason's philosophy and practices. After that, we cover six practical steps on how to plan a Circle Time that will bless your family.
Exploring Music Study
Amber Vanderpol
Music can be one of the great joys in life, even if you are not musically inclined. Mason's educational method gradually developed a child's ability to enjoy and appreciate music through a variety of means, far beyond listening to six different pieces of music by a composer in each term. In this session, we will explore the different facets of musical education in Mason's Programmes and how they build on and relate to one another.
Foreign Language Through the Forms
Celeste Cruz
Foreign language is perhaps the most intimidating subject for the homeschool mother, especially when we consider Charlotte Mason's ambitious plan for her students to learn 3-4 languages by their teen years, with an emphasis on fluid conversation.  But what if teaching a foreign language "the Charlotte Mason way" could be a fun, doable experience at home?  In this session, we'll review Miss Mason's plan for foreign language through all the Forms and discuss strategies for implementing her practices and principles whether you are bilingual or not.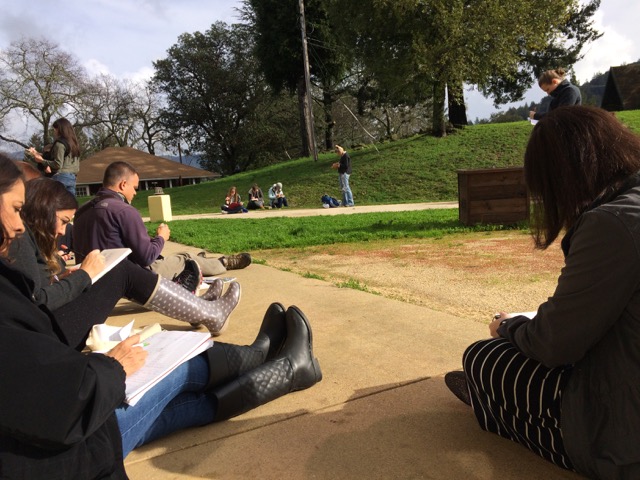 Other Activities
Nature Journaling Workshop with John Muir Laws
Jack will lead us in an immersion session to demonstrate the principles he describes in his plenary talk on nature journal groups. This will be a no-stress, process-based opportunity to try out some nature journaling in a group setting as he guides us through several hands-on exercises. Be prepared with your nature journal and a pencil. Learn how to lead by playing the role of student!
Round Table: CM in the Upper Years
Homeschooling high school requires moms to stretch in ways they haven't before. Together we'll consider both the big picture and the details of guiding our children on the Charlotte Mason path through the upper years, including everything from how we schedule our high schoolers' days in the pursuit of independence and responsibility, to what our favorite resources are, to how we prepare our growing students for their adult lives. Come find support from other moms of young adults — or get a preview of what high school might look like in the homeschool.
Round Table: CM with Littles
Join us to discuss the challenges and joys of a Charlotte Mason education with littles in the home. We'll talk about Charlotte Mason's suggestions for early childhood, consider how to balance homeschooling with the needs of younger siblings, and troubleshoot together the concerns particular to this blessed and busy stage of life. Bring your questions or come to share your experience!
About the Mother's Education Course Chats
The Mother's Education Course was a multi-year programme of suggested reading and accompanying exams for PNEU-educating mothers. Studies did not focus mostly on educational philosophy as one might expect when designing a course of study for home-educators. Instead, in the style of the wide and generous feast that defines a Charlotte Mason education, the book list included reading assignments in the following four categories: (1) divinity, (2) health and physiology, (3) mental and moral science and education, (4) nature lore and the elements of science. Suggested readings from these content areas might have seemed at first glance outside the scope of preparing educators and parents, but read in the spirit and through the perspective of Miss Mason's philosophy, they provided much fodder for meaty, fruitful discussions in living ideas.
Mother's Education Course Chats: Health – Natural Options for Family Healing
In the MEC, Charlotte Mason had mothers spend a quarter of the curriculum learning how to better take care of their children physically. Many common childhood and adult ailments can be treated simply and effectively at home, saving both time and money. In this session, we'll talk about the various methods and products available, share some general principles, and give suggestions as to where to start if you're interested in learning more.
Mother's Education Course Chats: Moral Science – It All Begins with Education
PNEU parents gathered together to engage in lectures and discussions on the same topics covered in MEC coursework, and that's exactly what we'll do in this informal session. "It All Comes Down to Education" was published in The Parents' Review for Charlotte Mason-style homeschool mamas, just like you! It covers a little bit of everything, from the philosophical aspects of education to the nitty-gritty of habit training, with tons of inspiration for our vocation. We'll see where our chat takes us!
Panel: Learning in Community
This session will explore the many and various forms community learning might take. We will also share thoughts and questions to consider when evaluating which activities are right for your family: What are the benefits and challenges of learning in community? Which kinds of activities particularly shine by being shared with others? How does personality affect what kinds of community work best for us? Leave this presentation with the tools you need to build thoughtful, life-giving learning activities with others.
Instagram Photos:
Many people at the conference posted photos on Instagram during and after the conference.  Thank you to all who shared their photos, it was a joy to see them!
CM West :: Conference in the Redwoods 2017