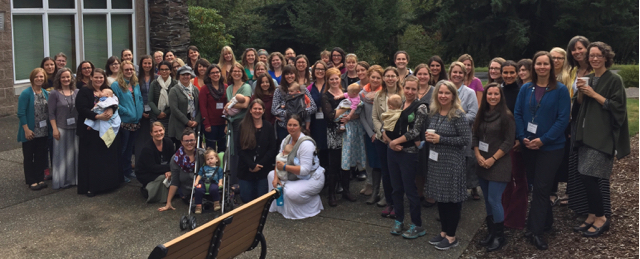 At the end of September 2017, 63 women gathered at the beautiful and peaceful Palisades Retreat Center for the second Charlotte Mason conference in the Seattle area.  With the beautiful location, comfortable accommodations, and the thoughtful and inspiring talks by Nancy Kelly, the event felt more like a retreat than a conference.  We had expected rain, but other than a few short bursts now and then (conveniently happening when we were scheduled to be indoors anyway) it remained dry and beautiful for our whole stay.
Nancy Kelly gave most of the talks, and while we listened to her share her knowledge and wisdom regarding Mason's Philosophy of Education, we also grew as educators as we narrated, participated in lessons, and contemplated an allegorical painting of magnanimity.
We also enjoyed a wonderful talk about birding with children by Marina Pita, from the Seward Park Audubon Center.  This talk was a favorite of many of our attendees, judging by the comments on the post-conference survey.  We also engaged in a little  mother culture as we explored clothing in Shakespeare's time as well as costuming for Shakespeare with Richard Stevens.  While not explicitly applicable to Mason or our roles as educators, this opportunity to explore these subjects enhanced my understanding of the time period and enriched my understanding of what clothing can communicate about the wearer.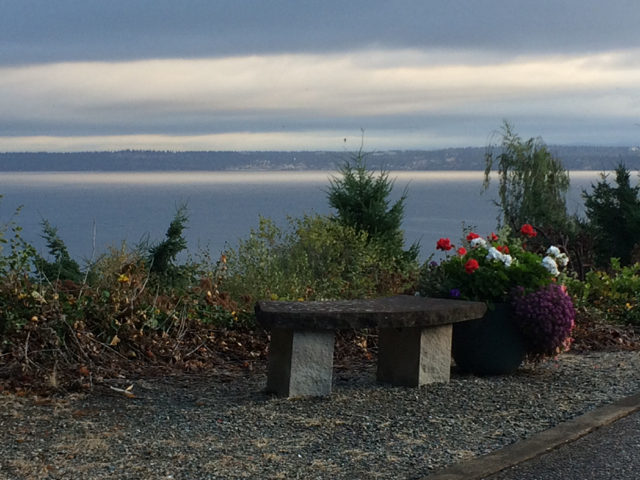 Schedule
Friday
4:00 – 5:45: Registration
4:30 – 5:45: Social Time, Book Share
5:45 – 6:00: Welcome, Announcements
6:00 – 7:00 – Dinner
7:00 – 7:15 – Registration
7:15 – 7:30 – Music
7:30 – 9:00 – Plenary – Nancy Kelly – Charlotte Mason Foundations: A Paradigm Shift
Saturday
8:00 – 8:45 – Breakfast
9:00 – 10:15 – Plenary – Audubon Presentation
10:20 – 10:30 – Music
10:30 – 12:00 – Plenary – Nancy Kelly – The Well-Balanced Mind: The Imagination Factor
12:00 – 1:00 – Lunch
1:15 – 3:15 – Plenary – Nancy Kelly – Getting Rid of Weeds and Fostering Flowers: The Vital Role of Habits
3:15 – Afternoon Snack
3:15 – Nature Walk and Nature Journaling
4:30 – 5:45 – Plenary – Nancy Kelly – Shakespeare: The How and Why
6:00 – Dinner
7:15 – Shakespeare history and costume with Richard Stephens
Sunday
7:30 – Mass in Chapel, Morning Prayer in Water View Room
8:00 – 9:00 – Breakfast
9:15 – 10:30 – Plenary – Nancy Kelly – New Thoughts of God: Living Bible Lessons
10:35 – 10:45 – Music
10:45 – 12:00 – Plenary – Nancy Kelly – Citizenship in the Curriculum: Mason, Magnanimity, and the Moral Life
12:00 – 1:00 – Lunch
Schedule Review
Our schedule worked very well, and most people were pleased with it.  As the conference was going, I adjusted where we put the music a little bit, and used the music to draw the group back together after Marina's talk, our afternoon break, and before our last plenary on Sunday.  I felt like this was a much better way to draw the group together than trying to get everyone's attention by yelling or ringing a bell.  I was thankful the retreat center had a piano in our main meeting room and very thankful to Hannah Vander Wilt for leading us in our folk song, Roll On, Columbia, Roll On, and our hymn, Praise to the Lord, the Almighty.  I should have put a time in the schedule for a group photo and arranged for someone else to take it, but we squeezed it in between our sessions on Sunday.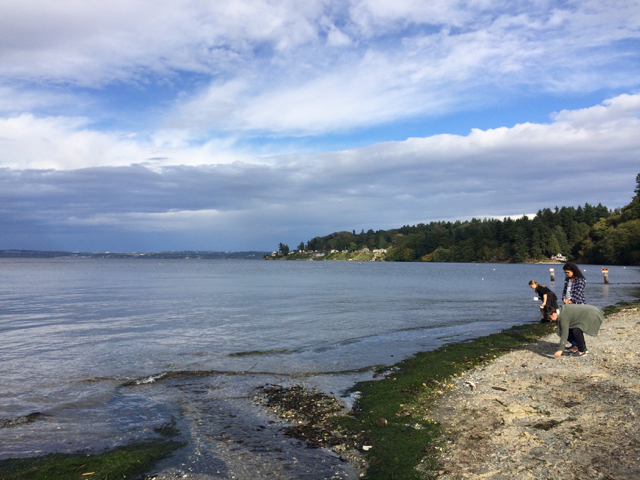 Activities
During registration, we gave attendees the option of bringing favorite books and resources to share with their sister home educators.  It was a last minute idea based on an email from an attendee who was looking to preview a particular resource, but it proved to be popular and was enjoyed by many at the conference.  Thank you to all who grabbed a few good books at the last minute and toted them along.
We also had a free hour or so on Saturday afternoon to do some nature journaling and spend some time outside.  Thankfully the weather cooperated, and we were able to walk the nature trail on the grounds, explore a nearby beach, and enjoy some informal nature journaling discussion and help.
Our Speakers
Nancy Kelly
Nancy Kelly is a well known and highly respected speaker about Charlotte Mason's philosophy.  She shares her experience and wisdom every year at the Living Education Retreat, the CMI Eastern Conference, and various other regional events around the country.  Her newest project is her Living Education Lessons, an online mentoring community.
She and her husband Kent have home-educated their six children for over 20 years using the principles and practices of Charlotte Mason. Nancy has helped build a thriving educational community in southwest Minnesota that continues to learn and grow. She administrates the Parents' Midwest Educational Union (PMEU), a parents' book discussion group; Truth, Beauty, Goodness (TBG), a student learning cooperative; and the teacher-training Awakening sessions. She is a current board member of the Charlotte Mason Institute and writes at her CM-inspired blog, Sage Parnassus.
Marina Pita
Marina learned to care for the environment from her grandfather Mario, who studied the health of the Atlantic Ocean in her family's homeland, Argentina. She chose Environmental Studies as a minor at the University of Washington after his passing. During her time at UW she became a Carson Civic Fellow which led her to her first stint working at Seward Park Audubon Center in 2009 as a naturalist. Her love of teaching was born from this exprience which led her to pursue a Master in Teaching and work for five years as a dual language teacher (native proficiency Spanish speaker) at Concord International Elementary in South Park. She is thrilled to be back at Seward Park Audubon, a place that combines her passion for teaching and the environment.
Richard Stephens
Richard Stephens is an actor, director, costume and scenic designer currently living in Port Angeles, WA.  Richard designs costume for theater companies across the North Olympic Peninsula and is the resident designer at Peninsula College:   recent design credits include, The Tempest, Salome, A Chorus Line, The Sea is a Restless Whore and Vanya and Sonja, Masha and Spike.  This past summer Richard curated a historical costume retrospective,  "Clothes Off Make the Man – Passion and Fashion in the Time of Shakespeare" for the Port Angeles Fine Art Center to coincide with their Shakespeare in the Woods production of Much Ado About Nothing.  Richard and his wife home schooled their four children for many years and worked actively with home school groups teaching theater and he continues to work with school groups throughout the P.A. School District as a guest speaker and designer.   When not working on stage, Richard is the director for the Port Angeles Downtown Association working on local economic revitalization.
Instagram Photos
Many people at the conference posted photos on Instagram during and after the conference. Thank you to all who shared their photos, it was a joy to see them!
CM West :: Conference at Puget Sound 2017