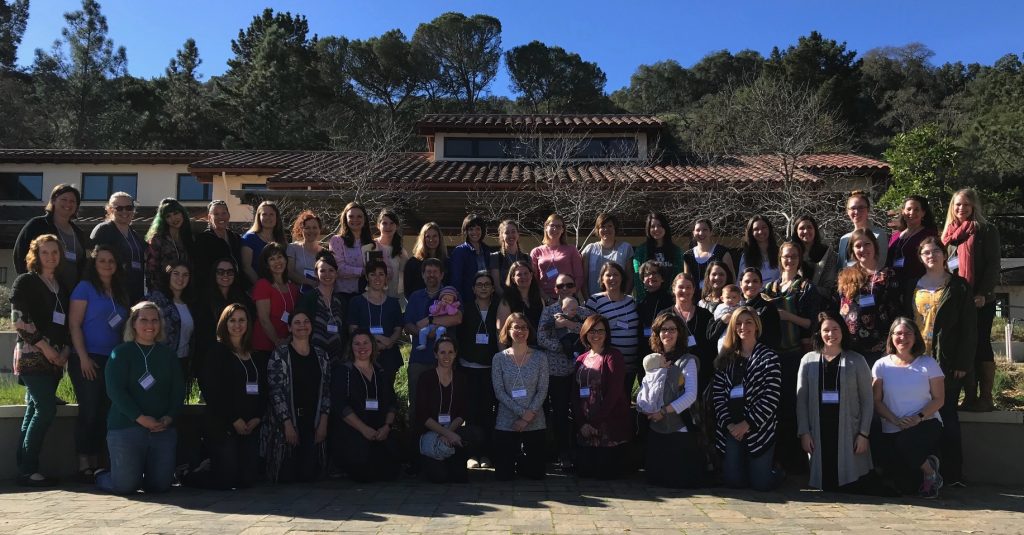 In February 2018, we gathered at the St. Francis Retreat Center in San Juan Bautista for our second Northern California Charlotte Mason conference.  We enjoyed beautiful weather, inspiring and helpful talks, an object lesson, a nature walk, a map and compass demonstration, nature journaling and other keeping opportunities. handicrafts, music and a picture study together.
Celeste also has a wonderful write-up about the conference, so if you'd like to read more and see more pictures, I encourage you to check it out.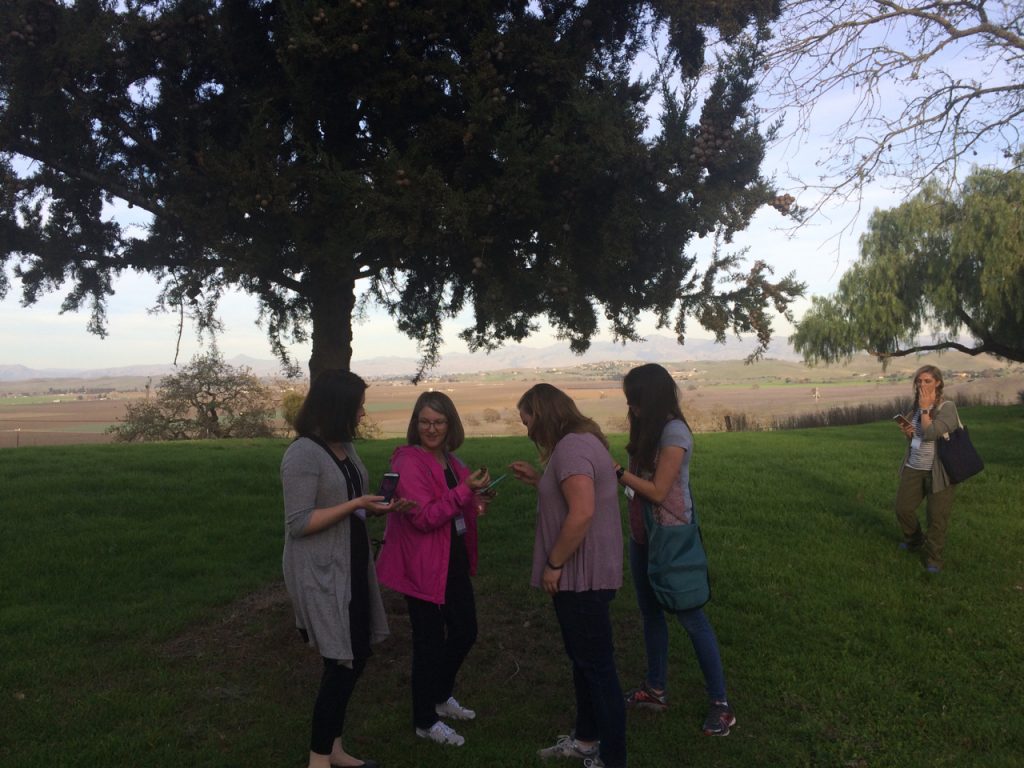 Schedule
THURSDAY
2pm – OPTIONAL tour of Mission, time in Mission gardens, coffee
4-6pm – Registration, Resource Fair and Used Book Sale
6-7pm – Dinner
7:15 – 7:30 – Announcements and Introductions
7:30 – 8:30 – Talk – The Gift of a Mason Education with Amber Vanderpol
8:30 on – Free Time Fireside + Folk Dancing
FRIDAY
8-8:45am – Breakfast
9-9:15 – Music, Announcements
9:15-10:15am – Talk – Keeping with Celeste Cruz
10:30-12 – Mother Culture + Keeping Immersion
picture study + drawn narration – in groups
notebook activity + handout
mingle between (1) keeping displays of student work, and (2) keeping immersion — setting up notebooks, lettering practice, adding Mother Culture quotes to commonplace, trying out keeping supplies
12-1pm – Lunch + Mealtime Mentoring
1:15 – Music
1:15-2:15 – Some Aspects of Nature Study with Virginia Lee Rogers
2:30-3:30 – Scouting in a Charlotte Mason Education with Matt Vanderpol
3:30-4:00 – Free time + Snack
4:00-6:00 – Outdoor activity rotation in three groups, 30 minutes each
(1) Object lesson indoors – HONS activity with Virginia Lee Rogers
(2) Guided nature walk
(3) Scouting activity with Matt
6:00 – 7:00 PM :: Dinner
7:15-7:30 – Music, Raffle, Announcements
7:30-8:30pm- Snacks + Themed Q+A following up from talks: Keeping, Nature Study, Scouting
SATURDAY
7-8am – Nature walk
8-9am – Breakfast + Check-outs
9-10:15am – Nature walk / Handicraft / Nature Journaling
10:15am – Music + Group Photo
10:30-12 – Education is a Life: Ideas that Inspire with Jessica Severne (first part outside, then inside)
12-1pm – Lunch + Farewells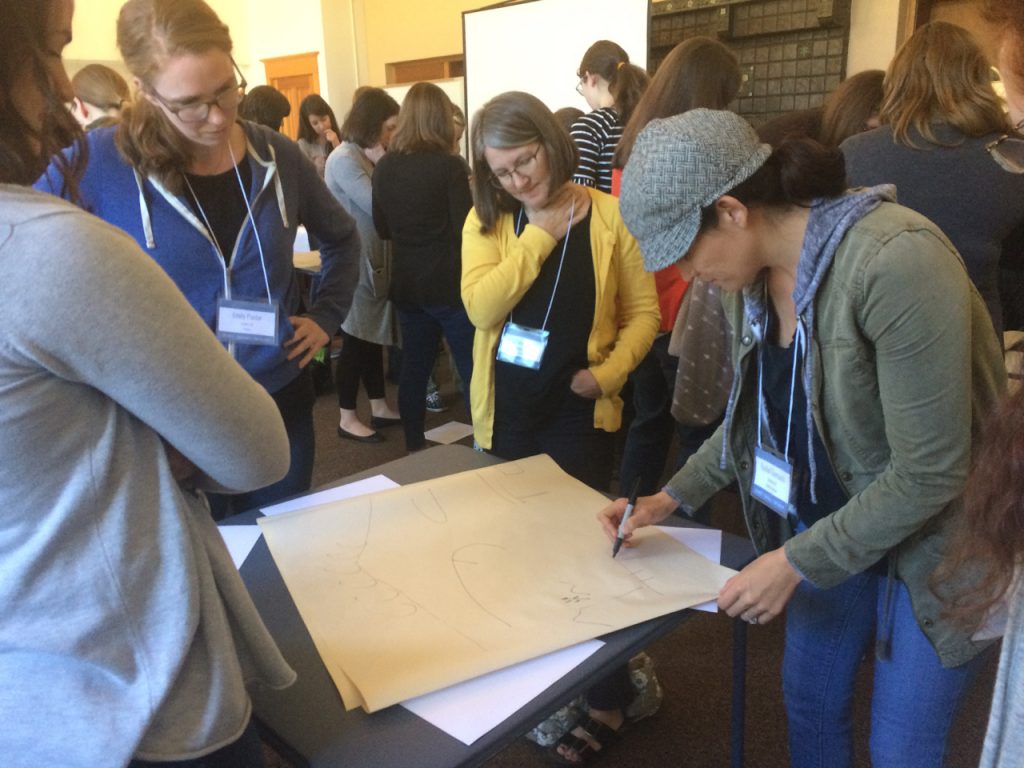 Schedule Review
We were very pleased with how the schedule turned out for this conference.  We had a wonderful mix of talks and activities, and ample time out of doors as well.  The keeping fair was very popular, as was the picture study with the group based drawn narration.  This is something that Celeste saw in a Parents' Review article and it was great fun to try it out at the conference.
The main spot that might have been improved was on Friday afternoon, when we had two talks back to back.  We wanted to be able to have the afternoon rotation reflect both of those talks, but perhaps it would have been better to have the outdoor immersion activities between the talks rather than after.
We also tried something new this year, Mealtime Mentoring.  We had three topics attendees could choose between:  Getting Started, Managing Multiple Grades, and Language Arts.  The attendees signed up in advance, and amazingly, we ended up with the same number of people at each table.  Each table had one experienced CM educator and the meal offered an opportunity to ask questions about the topic.  This worked well, although I think when we do this in the future we will also give people the opportunity to suggest questions in advance when they sign up for the table.
Our Artist
For our picture study, we chose E. Charlton Fortune, a local artist who lived most of her life in San Francisco and Carmel.  There is currently an exhibition of her work at the Crocker Museum in Sacramento, and this summer her work will be on display at the Monterey Museum of Art.  Often one problem with studying a more recent artist is the difficulty in obtaining copies of the art that can be printed.  The public relations contact at the Crocker Art Museum kindly gave me digital files of two of Fortune's works so we could get them printed for the our picture study.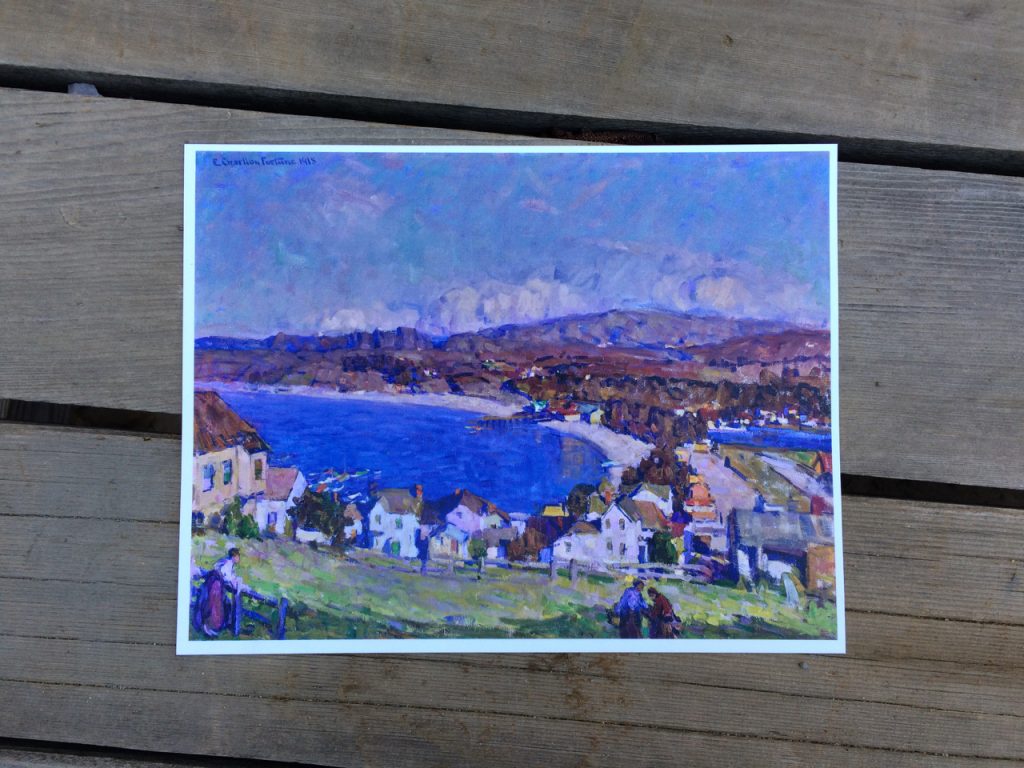 View of Monterey by E. Charlton Fortune
Conference Photos
Thank you to all who posted photos of the conference on Instagram!
CM West :: Conference in Old San Juan 2018